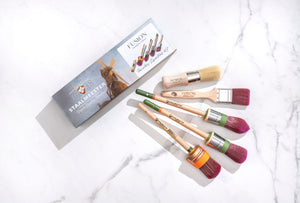 Staalmeester Painters Essential Kit (5 Brushes)
Regular price
$124.99
$0.00
This 5 brush essential kit is the perfect set all your painting needs.

great for gifts
great for the everyday DIY'er
5 different must have brushes
excellent value
FSC certified wood
The Staalmeester® is the Rolls Royce of Brushes. A unique synthetic / natural bristle blend that has a short natural china bristle, blended with a longer silky synthetic bristle. The natural bristle ensures better paint absorption and the synthetic bristle component allows for a smooth, even application having minimal to no brush strokes.  

Important

~Please do not remove band of string that is wrapped around the top of the brush bristles.  This string should be kept intact as it gives the bristles direction and perfect tension.
Be sure to use Fusion's Brush Cleaner to keep condition and clean your brush, leaving your bristles in pristine condition!
All brushes, no matter the price and quality, lose bristles when new. So you don't need to rush back to the store where you purchased yours for a replacement. As soon as you unwrap your new brush, hold it firmly and pull on the bristles a few times to coax any loose hairs out. Then use Fusion Brush Cleaner to clean your brush well. Let dry and paint away!
---
More from this collection