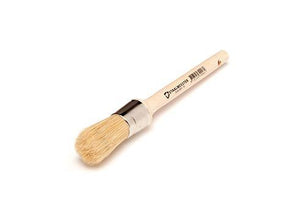 Natural Series Wax Brush Round #20 by Staalmeester
Regular price
$25.99
$0.00
This brush is made with 100% pure china bristle.
Excellent for our applying our Stain & Finishing Oil or our Milk Paint.
Works really well as a wax brush for applying a variety of waxes. 
Excellent for producing a textured finish with Fusion Mineral Paint.

For added texture, try using our Texturizing powder, Fresco! 
BRUSH CARE

Wash with our Brush Cleaner to maintain this brush for life. 
Do not let paint dry on the bristles, submerge in water just below the ferrule and let soak if you have no time to clean your brush. Come back later to wash it out with brush cleaner.
Hand made with FSC certified wood

Imported from the Netherlands
Be sure to use Fusion's Brush Cleaner to keep condition and clean your brush, leaving your bristles in pristine condition!
All brushes, no matter the price and quality, lose bristles when new. So you don't need to rush back to the store where you purchased yours for a replacement. As soon as you unwrap your new brush, hold it firmly and pull on the bristles a few times to coax any loose hairs out. Then use Fusion Brush Cleaner to clean your brush well. Let dry and paint away!
---
More from this collection