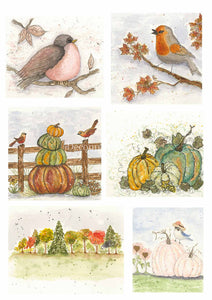 Fall Birds by Old to Ooh La La - Decoupage Paper
Regular price
$3.95
$0.00
Printed on rice paper in Italy on the highest quality paper available on the market today. Rice paper has been used for decades in arts and crafts with decoupage. Torn edges will blend beautifully into a background. You should start with a white or light colored background to make the colors appear brighter and more vivid.

For Best Results:
Paint the surface with a light or white colored background so the image will show against the transparency of the paper. 
Apply a layer of decoupage medium to the surface, then place the paper. If you are covering a large area, it is best to do it a section at a time.
Once the paper is positioned correctly, apply another layer of glue over the top.

Let top layer fully dry before applying a second coat of decoupage medium or varnish.
Do not touch your rice paper when it is wet.
Use a soft brush with flat / wide bristles (golden taklon works well).
---
More from this collection