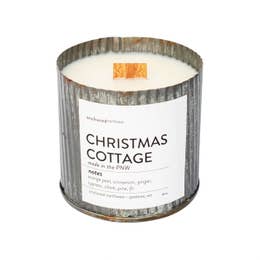 Christmas Cottage Wood Wick Rustic Candle
Regular price
$24.99
$0.00
Christmas Cottage Rustic Vintage Candle
Notes:  Orange Peel, Cinnamon, Ginger, Cypress, Clove, Pine, Fir
Ingredients: 10 ounces poured in a Rustic Vintage container Untreated Cedar Wood Wick 100% Soy Wax grown in the US. Fragrance and Essential Oil Blend Dye and Phthalate free Our wood wick, triple scented, 100% soy wax candles are hand poured in Spokane, WA.
We use real ingredients in our candles - fragrance oils infused with essential oils, 100% American-grown soy wax, and untreated cedar wood wicks.
Made in United States of America
Why Wood Wicks?
Wood wicks burn slower and longer than cotton wick soy candles, by up to 25%, giving you more bang for your buck. Wood wicks burn hotter for more smell power, leading to a more fragrant candle. Wood wicks have nearly zero carbon buildup and therefore no soot. Wood wicks require less trimming than a cotton wick and our wood wicks are harvested in sustatinable forests right here in the USA. And of course...the CRACKLE! In other words, wood wicks are cooler than cotton wicks. 
Materials:
Soy Wax, Galvanized Tin, Wood Wick, Fragrance/Essential Oil Blend
---
More from this collection